Chios Art + Research Retreat
Chios Art + Research Retreat: Interdisciplinary residency in Chios island
October 2021
In partnership with DEO projects, Caravan project presents Chios Art + Research Retreat - the first nomadic interdisciplinary residency on Chios island. On an annual basis, six young artists, scientists and researchers are invited to spend 16 days in Chios under the same premises, in a different geography of the island.


Starting in October 2021, the first Chios Art + Research Retreat will focus on the area of Kampos in Chios, with the support of Perleas Mansion. The 16-day programme will include presentations about Kampos by selected lecturers, guided tours, additional research by the organizers, open discussions and two days of open studios where the ongoing research projects are presented to the local audience.


While staying in one of the estates of Kampos, the invited artists and researchers will be able to explore and experience this unique settlement from within. Its rich history, the unique architecture, the long-time cultivation of citrus are the elements that gave Kampos a past characterized by great glamor but also introversion. At present, the abandonment of orchards and mansions, tourism, and urban expansion undermine its unique character and open up fields of research. The guests are invited to respond critically, research, and transform the above materials, bringing new perspectives.

Kampos is a semi-rural area within the city limits of Chios. It is an example of the coexistence of Byzantine, Genoese, Ottoman and local architectural traditions and influences dates back to the 14th century. It is located on a fertile plain on the east coast of the island, and originally consisted of more than 300 estates that included orchards (typical agro-ecosystems), mansions and churches. The existing urban fabric includes historic buildings from the 14th to the 18th century, as well as neoclassical buildings of the early 20th century. The area is a particularly vivid historical example of the coexistence of housing and production. Built entirely with local stone, Kampos is a whole of exceptional beauty which was included among the most endangered cultural heritage sites in Europe in 2016.


"There is no other place in Chios where history has left its deep marks, than the region of Kampos, a place that nowadays levitates between its rich history and its present dull reality. Fate, however, has shown avenging fury on Kampos, perhaps because this splendour and exaggeration are not consistent with human suffering, or because decline is the natural consequence of every man-made conquest." (Stratis Vogiatzis, Kampos)



Invited artists and researchers 2021 | Petros Lolis, Ilectra Maipa, Alexandra Masmanidi, Alexis Mastichiadis, Valia Papastamou, Fred Schmidt
Project information


Project Duration | 8 – 24 October 2021

Open days | On Saturday 23rd and Sunday 24th, the guests will present their on-going research to the public

Chios Music Festival | As part of the programme, Chios Art/Research Retreat inaugurates a partnership with the Chios Music Festival. For 2021, Chios Music Festival has selected Alexis Mastichiadis to participate in the Chios Ar + Research Retreat.


2021 nominators include:


Nicolas Vamvouklis, K-Gold Gallery creative director

Sofia Dona, artist

Rena Pitsaki, independent curator

Michalis Almyroudis, photographer

Akis Kokkinos, DEO projects founder


Chios Art + Research Retreat is organised and curated by Dimitris Theodoropoulos, Stratis Vogiatzis and Eleni Vourtsi, while DEO projects provide its communication platforms to reach diverse audiences.


Dimitris Theodoropoulos

Dimitris Theodoropoulos (Corinth, 1979) studied Architecture and Theory in NTUA. He was part of nikiou 22 group from 2005 and worked for research programs in NTUA. He is a founding partner of hiboux architecture office in which frame he did set design for Dimitris Papaionannou (Inside, 2011, Still Life, 2014), Athina Rachel Tsangari's Capsule installation for DESTE Fashion Collection 2012, NY, et al. He is a founding member of the errands group with whom he has participated in the 7th Sao Paulo Bienal of Architecture (2007), 2nd Athens Biennial (2009), 1st Istanbul Design Biennial, Gardentopia Matera, European Cultural Capital 2019, et al. He is part of the groups Diolkoi, Construcing Siesta and Werkraum (experiential installation "Agathofron, the Collector's Atlas", Benaki museum for the Athens and Epidaurus Festival 2018). He was teaching a designstudio in UPatras Architecture Dept (2015-18) and architectural drawing in Tinos School of Fine Arts (2017-19). His practice is built on collaborations and artistic dialogues resulting in co-authored works.


Stratis Vogiatzis





Stratis Vogiatzis (Chios, 1978) is a filmmaker, photographer and an anthropologist. He studied economic sciences in Aristotle Uni. and Social Anthropology in Amsterdam dealing with children and Political violence in Palestine. He collaborated with Greek and international press, as photojournalist for many years, photographing and writing essays about social and cultural issues. He exhibits regularly in Greece and abroad and his works belong to museums and private collections. He has published five books with his work and he has directed several independent documentary films that have been distinguished in international film festivals. Furthermore as a trainer and facilitator he leads several participatory projects with disenfranchised communities employing storytelling and documentary filmmaking as an active way of engaging with the world. In 2011, he initiated with a team of artists and researchers the Caravan Project, (www.caravanproject.org), a travelogue around Greece with the intention to empower local communities through community art projects and cultural activities.

stratisvogiatzis.com




Eleni Vourtsi




Eleni Vourtsi (Athens, 1986) studied shipping in Chios (Aegean University) and photography in Athens (Akto). For the years 2013-2019 she resided on Patmos island where she worked at Andreas Kalatzis Gallery, Chora Patmos, curating and producing exhibitions as well as promoting artworks. At the same time she was organizing artists' hosting (residencies) in the same space and she was designing and organizing international workshops for students in collaborations with various schools. She works mainly with the medium of photography and her work has been exhibited among others in Art Athina (2010), "Open Doors II" (2012, Athens), "Myself, Untitled" (2014, Kitzbuhel, Austria), Rosemarijn-Antroposophische zorg/Harlem/Netherlands(2015) and Urtica De Vijfsprong Vorden/Netherlands (2016), "Found&Lost", Float&Void, Athens (2017) as well as in private collections. Currently she is based between Chios and Athens, working on projects related to Chios.

elenivourtsi.com



Petros Lolis
Petros Lolis creates sculptural compositions, using materials like clay, wood, metal and cement, in combination with performance, video and animation, that operate as gestures- observations on the relation of the human body with the living force that makes it move and the materials that surround and transform it. He is a senior student in the School of Fine Arts in Athens, in the department of sculpture under the guidance of Afroditi Liti and a graduate of the University of Piraeus, in the department of Financial Management. Most of his life worked in the food industry in Greece and other countries, traveling and approaching life with a poetic intention for existential exploration.

Ilektra Maipa
Ilektra Maipa is a visual artist based in Thessaloniki, Greece. She studied Painting in the Department of Visual & Applied Arts at University of Western Macedonia and graduated with honors. She continued her studies at the Manchester School of Art, Metropolitan University of Manchester (MA Fine Art, Hons). Maipa works across a range of media, including drawings, digital collages, installations, and performances for camera and text. She has presented her work in various exhibitions in Greece and abroad: Manchester Art Fair, UK (2019); the Brave New World project, K-Gold Gallery, Lesvos, Greece, with the support of NEON (2016); the exhibition Beyond the Borders/Visual March to Prespes; State Museum of Contemporary Art, Thessaloniki (2014); "Physis" at the Hellenic Foundation for Culture in Berlin, Germany (2013); and the Biennial of Young Artists from Europe and the Mediterranean, Thessaloniki (2011), among others. In 2020, she received the ARTWORKS Stavros Niarchos Foundation Artist Fellowship Award.

Alexandra Masmanidi

Alexandra Masmanidi lives and works in Athens. Masmanidi explores different media such as photography, videography, painting and collage. She is interested in the constant reconstruction of the self-challenged by the multitude of new identities. Her research focuses - primarily through personal experience - on ecology, inclusive feminism, gender psychology, and collectivist practices. She has participated in numerous exhibitions. In 2019 she presented her solo work "Closure" at Subrosa space, Athens. Her work appears in the collection of Onassis Foundation. Masmanidi studied Photography and Audiovisual Arts at the Athens University of Applied Sciences.

Valia Papastamou
Valia Papastamou has studied Architecture at the Aristotle University of Thessaloniki (M.Arch). She continued her postgraduate studies in Cultural Administration (MA in Cultural Administration) at the Department of Communication, Media and Culture of the Panteion University of Social and Political Sciences and in Fine Arts (MFA) at the Athens School of Fine Arts. She currently works as an associate researcher in the Centre of New Media & Feminist Public Practices at the Department of Architecture, University of Thessaly. She has had three solo exhibitions, at Snehta Residency «The writing trousers» (2020), at the Contemporary Art Center Ileana Tounta «phonological minerals» (2017) and at Two Elephants Project Space «Come back to the house where nobody lives» (2016). She has participated in group exhibitions in Greece and abroad. In her artistic practice, she explores snapshots of the language, the body and the space in which this already resides, through the elastic forces of affect.

Frederick Schmidt
Frederick Schmidt is a German-British social anthropologist born in Berlin, who specializes in art and the production of images in Athens. He lives and works in Athens, conducting his field research for his doctoral dissertation at the University of Cambridge. His work concerns public and private institutions that produce, shape and problematize the images that circulate in everyday life. His research concerns, among other things, the academic art prep schools that prepare students for the exams to enter Fine Arts schools in Greece and abroad, with an emphasis on the visual environment and the visual ecology in which these drawings are produced and in which they participate. Through attention to images and image-events that operate across society, as well as to the more common places of their production, he seeks productive metaphors for historical consciousness and the experience of the present.

With the financial support of




With the support of





The Caravan Project is non- profit organisation consisted by interdisciplinary team of filmmakers, architects, anthropologists, designers, economists and strategy planners that supports and promotes participatory arts practices through culture, informal education, social and solidarity-based economy methods based on citizen participation. Working with various disenfranchised communities and using storytelling and documentary filmmaking as tool for empowerment, caravan project acts act for social inclusion, intercultural dialogue and active citizenship. We work with partners across Greece, Europe and the Mediterranean area.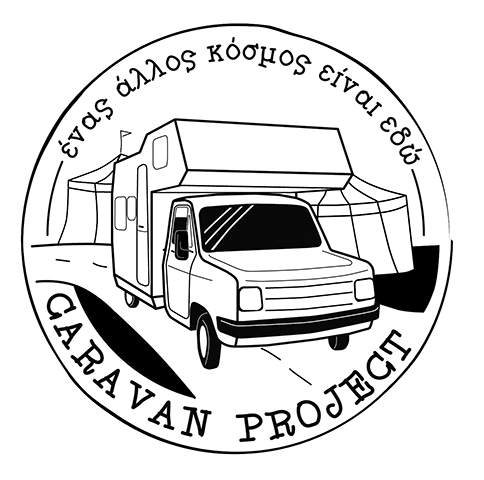 Perleas Mansion

Hidden behind high walls, in a citrus garden of 17 acres, Perleas Mansion is one of the most ideal agrotourism units in the island of Chios, in Greece. Perleas Mansion, built in 1640, is characterized by the beautiful natural stone from the village Thimiana and the typical Genoese architecture. The stone-built courtyard, the dining room and the decoration of the rooms offer the authentic feeling of an old, aristocratic era.