Paulo Nimer Pjota
Commission Series

May- August 2021
Exhibition dates | 10 July – 10 August 2021


DEO Projects invites the Brazilian visual artist Paulo Nimer Pjota to develop, produce and exhibit a new body of work as part of its inaugural Commission Series programme.

Pjota unites art history with the complexity of contemporary social imagery to create a multi-layered assemblage of visual narratives. His large-scale un-stretched canvases, highly influenced by ancient Greek culture, have been exhibited across major cultural institutions worldwide.

Opening on the 10th of July, the exhibition at the old slaughterhouse of Chios island will mark the first Greek presentation of the São Paulo-based artist, curated by Akis Kokkinos, founder of DEO projects.

The show will be a result of a three-month on-site research of the artist in Chios exploring the island's history and heritage from ancient times till the present day. The artist will have the opportunity to explore the island's archaeological artefacts and sites (Archaeological Museum of Chios, the temple of Athena at Emporios, the temple of Phanaios Apollo), and contemporary social textures that have shaped the island's current state and identity. Pjota will also meet and work closely with contemporary local craftsmen and artists, integrating local materials and techniques into his practice and the commissioned works.

The old slaughterhouse of Chios holds the features elements of the past and preserves the space's social memories and histories. Presenting Paulo Nimer Pjota's work within the context of the old slaughterhouse will enable the audience to produce new narratives of what was perceived as familiar and known until now.

The old slaughterhouse of Chios is a courtesy of the Chios Voluntary Action Team, OMIKRON.








Exhibition Opening | 10 July 2021*

Exhibition Duration | 10 July – 10 August 2021*

Exhibition venue | Old slaughterhouse of Chios, Volunteer Park, Chios- Vrontados ring road

Free admission

*Depending on the Covid-19 restrictions, the opening times of the exhibition will be announced at the DEO projects website in mid-June.

About Commission Series

Commission series support an international artist to develop, produce, and exhibit a new body of work in Chios.

On an annual basis, the Commission series is supported by a dedicated patron who actively participates in all the project stages, enabling diverse practices in the arts ecology to connect and achieve ambitious goals together.

Local museums, non-institutional spaces, or the public realm will become a showcase for the commissioned works allowing audiences to explore polyphonic artistic voices across the globe.




About Chios Voluntary Action Team OMIKRON


Chios Voluntary Action Team OMIKRON organises public events to raise awareness and cultivate citizens' engagement in forest protection and environmental care. Since 1998, after a devastating fire on the island, the group has been receiving professional training and participates in firefighting on the island. OMIKRON also initiates projects throughout the year, including reforestation, clearing and maintaining forest roads, disposing of flammable substances and litter, among others. In 2009, the group received legal status, and it numbers 85 active members who effectively support and embrace OMIKRON's mission.







Paulo Nimer Pjota | First invited artist


The starting point of Paulo Nimer Pjota's works is the nature of collectively originated phenomena. His research and practice focus on an in-depth study of a popular iconography that can only develop through complex processes operated by numerous individuals. Therefore, we can think of his production as representing plural and agitated dialogue, with ever-changing interpretations, running through multiple streams of consciousness.
His most recent solo exhibitions include Cenas de Casa, Caixa de Pandora, Ivani e Jorge Yunes Collection, São Paulo (2019); Medley, Mendes Wood DM, São Paulo (2018); The history in repeat mode — image, Mendes Wood DM, Brussels (2017); The history in repeat mode — symbol, Maureen Paley / Morena di Luna, Hove (2017). Additionally, his work has been included in institutional group exhibitions such as Private Passion - New Acquisitions in the Astrup Fearnley Collection, Astrup Fearnley, Oslo (2019); Trouble in Paradise, Kunsthal Rotterdam, Rotterdam (2019); Sea of Desire, Fondation Carmignac, Porquerolles (2018); Going it is own way, KRC Collection, Voorschoten (2018); The Marvellous Cacophony, Biennal of Contemporary Art Belgrade, Serbia (2018); O Triângulo Atlântico, 11a Bienal de Artes Visuais do Mercosul, Porto Alegre (2018); Painting |or| Not, The KaviarFactory, Lofoten (2017); Soft Power, Kunsthal KAdE, Amersfoort (2016); 19o Sesc_Videobrasil, São Paulo (2015); Here There, Qatar Museums – Al Riwaq, Doha (2015); Imagine Brazil, Astrup Feranley Museet, Oslo (2013) / DHC/Art Foundation for Contemporary, Montreal (2015); 12 Biennale de Lyon, Lyon (2013).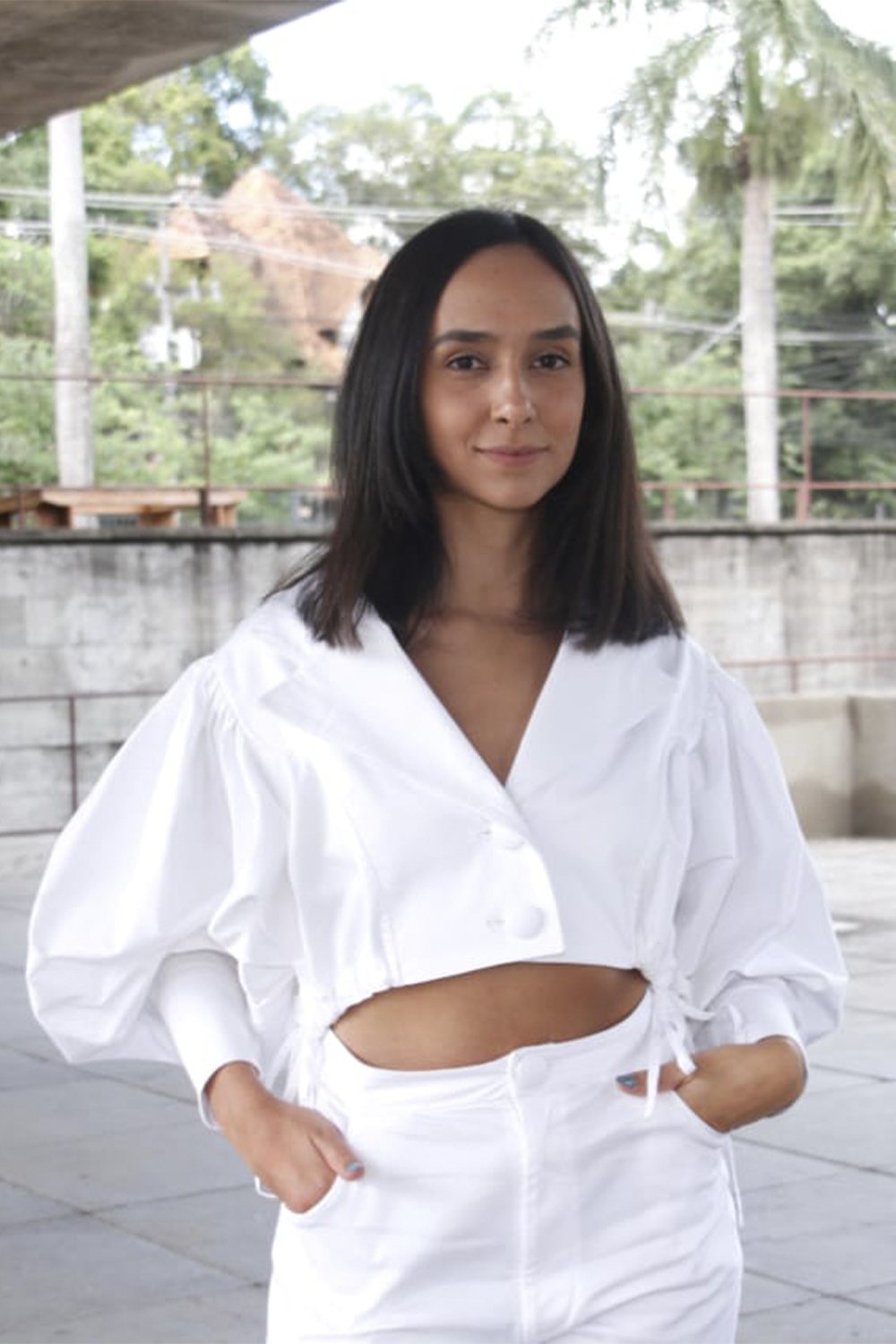 Jessica Cinel | Project Patron


Jessica Cinel (b. 1992) is a young Brazilian collector and patron of the arts. Her collection, started in 2016, is structured around notions of borders and limits, and has the counterpart of seeing a world without spheres.
Jessica's vision is to bring fresh approaches and perspectives to collecting and patronage while acting as an incentive for young artists and professionals by providing support and care.
She is currently the director for MuBE, Museum of Sculpture and Ecology in São Paulo, after holding the patrons' committee coordinator position. She is also part of the International circle to the Centre Pompidou in Paris and patron in MASP and Pinacoteca in São Paulo, Brazil.